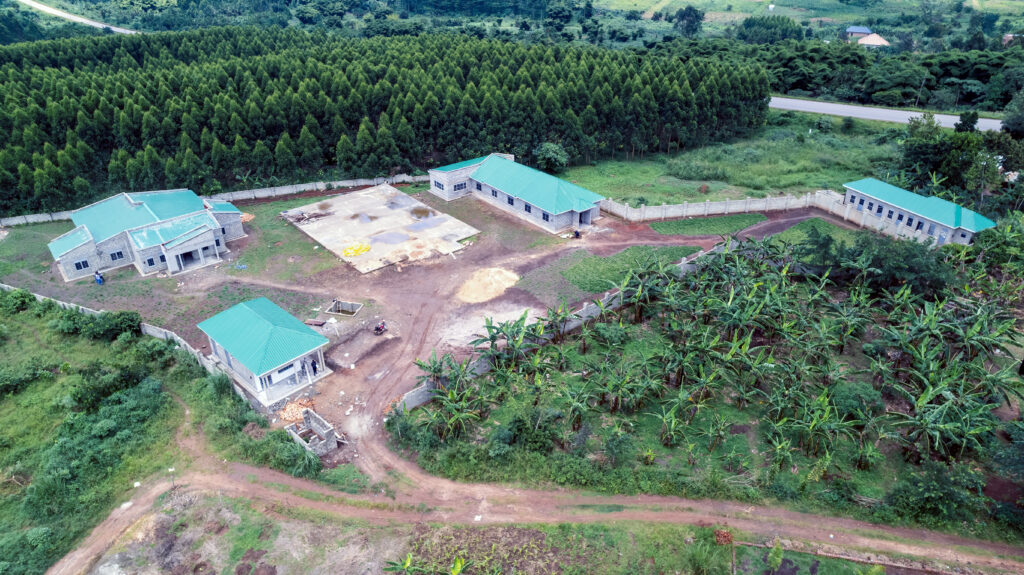 New premises of Safe Places Uganda at Bujuko-Mityana Road, 19km from Kampala City Centre.
Mental health is defined as a "state of well-being in which the individual realises his or her abilities, can cope with the normal stresses of life, can work productively and fruitfully, and is able to contribute to his or her community".
This means that when one's mental health is compromised, it undermines all the above abilities, which in turn has negative consequences on the overall well-being, stress responsiveness, productivity and contribution to the development of a given population.
On the other hand, mental disorders are health conditions that affect and alter cognitive functioning, emotional responses, and behaviour associated with distress and/or impaired functioning. Therefore, individuals with diagnosed mental disorders need mental health care for recovery and resumption of their cognitive, emotional and behavioural abilities.
Mental health Care refers to services devoted to the improvement of mental health in people and treatment of mental illness offered by a multi-disciplinary team of mental health practitioners ranging from psychiatrists, psychologists, therapists, counsellors, social workers, and psychiatric nurses, among others.
MENTAL HEALTH AND THE SDGs
In 2015, the United Nations Sustainable development goals (SDGs) set the course for a more equitable distribution of resources globally.
Among the SDGs, SDG3 clearly enumerates the importance of mental health and sets out targets in this area that include;
3.4) By 2030, reduce by one-third premature mortality from non-communicable diseases through prevention and treatment and promote mental health and well-being
3.5) Strengthen the prevention and treatment of substance abuse, including narcotic drug abuse and harmful use of alcohol.
3.8) Achieve universal health coverage, including financial risk protection, access to quality essential healthcare services, safe, effective, quality and affordable essential medicines and vaccines for all.
3.A) Strengthen the implementation of the World Health Organisation Framework Convention on Tobacco Control in all countries, as appropriate.
3.C) Substantially increase health financing and the recruitment, development, training and retention of the health workforce in developing countries, especially in the least developed countries and small island developing States.
Furthermore, in September 2017, the human rights council recognised the importance of integrating mental health services into primary and general health care to acknowledge the role played by good or poor mental health to one's physical health.
Poverty, marginalisation, violence, complex emergencies and human rights violations threaten both human development and sustainable economic development and constitute an important context for global mental health.
Poor mental health is strongly interlinked with other development factors such as poverty, work and economic growth or peace and justice. An individual, a community and a country's ability to achieve sustainable development goals is significantly impacted by the mental health of its population and the level of mental health care in a country.
The role of mental health in attaining most, if not all the (SDGs) sustainable development goals is clearly undisputed; thus, investment in mental health care is of paramount importance globally and of great urgency.
MENTAL HEALTH CARE IN UGANDA
In a recent article in one of Uganda's leading daily news publications (New Vision, May 2022), it was posited that about 14 million out of 43.7million Ugandans have had a mental health challenge in the previous two years, while previous data has put the statistics to between 25%-35% Ugandans having suffered from a mental illness.
It is also estimated that 90% of the mentally ill people in Uganda never get treatment (WHO).
With the prevailing statistics of Ugandans suffering from mental illnesses and about 15% requiring treatment for their mental health conditions, there are 28 public inpatient psychiatric units throughout Uganda and only one national mental health hospital. Over 60% of these beds are nearby Kampala, the capital of Uganda. Thus, those living in areas further away from the centre have little access to mental healthcare (Shah et al., 2017). Notably, most of the national mental health funding is directed to the national mental hospital, Butabika Hospital. Butabika hospital has a capacity of 500 beds, although currently, intake has doubled the initial capacity because of the overwhelming number of patients. This makes it evident that there is an overwhelming burden on public health facilities offering mental health care and the need for complementary services from private health care providers.
SAFE PLACES UGANDA (SPU); THE BIRTH & THE CONTRIBUTION.
Safe places Uganda (SPU) Ltd is a privately-owned entity providing high-quality mental, neurological and addiction treatment, established by a group of passionate and experienced mental health professionals in 2017 with the first safe place in the Kyambogo Environs. The birth of safe places Uganda (SPU) was out of the need and desire to provide an alternative, complementary services to the existing efforts by the government of Uganda.
Safe places Uganda (SPU) purposed to provide mental health care options that were accessible, affordable and of high quality to Ugandans as a means of bridging the gap for care.
Alongside providing care at its premises at Plot 12, Kyambogo Lower Estate, SPU has also carried out several initiatives to create awareness and destigmatization of mental health through different media campaigns and outreach programs in communities and schools.
With insight into the magnitude of the mental health burden and the growing need for Mental Health and psychosocial support amongst the population, Safe Places Uganda embarked on a project of constructing a second safe place, a more extensive and more specialized treatment facility at Bujjuko 19 KM along Mityana road. With the addition of the second facility to the current inpatient capacity of 15, SPU becomes the biggest private mental, neurological and addiction treatment centre with a combined inpatient capacity of 65 beds in addition to outpatient care.
The efforts by Safe Places Uganda (SPU) to lessen the burden of mental health challenges by improving accessibility and quality of mental health care are not without the personal sacrifices of a great team of young people. However they are believed to have a positive effect on the nation's overall productivity, development and attainment of the SDGs specifically SDG3.
The team at safe Places Uganda is determined to continue implementing incremental steps in revolutionising private mental health care in Uganda.
By Janet Kantalama
Founder & Executive Director
Safe places Uganda